What is an ETF?
You might hear the term thrown around often when people talk about investing, but what does it actually mean? ETF is short for "Exchange Traded Fund." It is a collection of securities (like stocks & bonds) that can easily be traded just like an ordinary stock.
ETFs often track certain sectors or indexes, like the S&P 500 or the technology sector.
This can be a simple and cost-effective way to get exposure to a sector or index, instead of buying many individual stocks.
Let's say you wanted exposure to the energy sector. You could go through a list of every single company in that sector and buy their stock one at a time, which would take hours. Or, you could search for an ETF like XLE, buy it, and immediately own a piece of 23 different companies. Pretty cool, right?
Some popular index ETFs are:
💰 SPY – S&P 500
💰 DIA – Dow Jones Industrial Average
💰 QQQ – NASDAQ
💰 IWM – Russell 2000
Some popular sector ETFs are:
⛽ XLE – Energy
🏦 XLF – Financials
🤖 XLK – Technology
🚑 XLV – Health Care
🏡 XLRE – Real Estate
These days, there are ETFs for almost anything you can think of. They make it easy to invest in different areas, from old blue chip stocks to newer ideas, like space exploration and cannabis.
My favorite website to research ETFs is ETF Database. They have tons of different information on every ETF, like holdings, expense ratios and performance over time.
There are also fun sites like stockcharts.com where you can view different sectors or indexes at a glance.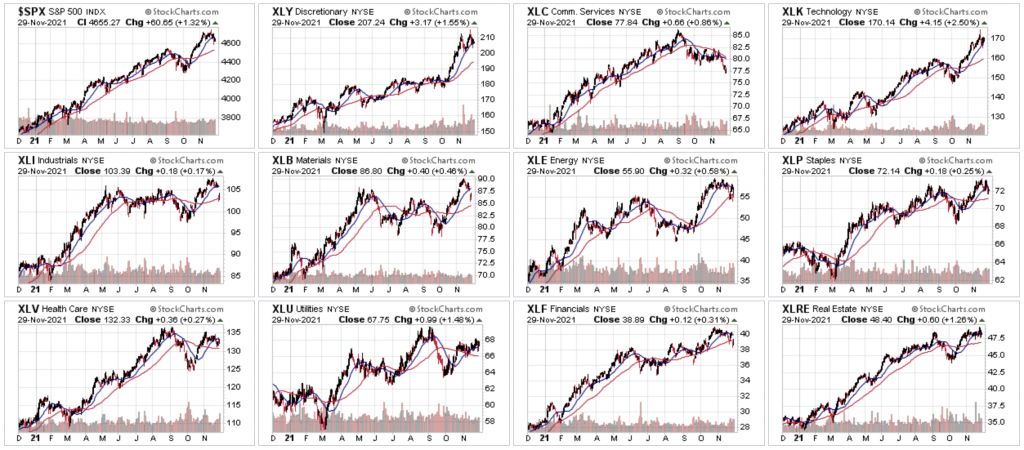 This is a great way to get an overview of the broader market at any point in time. If you want to see how multiple sectors are correlated, or reacting to news in different ways, that's a great site to check out.